BIOGRAPHY
Didn't really thought that I'd become a popstar someday. When I was in school, I used to be a very good painter/artist. I used to draw lots of pictures and paint them and give it away to friends.
I think a lot of my childhood and school mates still have them as my gift. So I used to think that I'll become a very famous artist one day but for my own surprise I became a pop star. I had a deep passion in music & dance since I was very young but I never realized that until I was out of school after SLC. During that break after SLC I had a chance to meet my big brother Namgel's friend Rabi, Saroj, Bire, they were in music and they usually gathered and jammed together. So I joined them and learned quite a lot how to sing and play guitar from them. And pretty soon I became their vocalist. We named the band 'The Bass'. We worked very hard, did all the local stage concerts everywhere, college, campus... I spent about 3-4 yeas with the band but even with our hard work and all we couldn't do any better. There were so many things frustrating us. Lack of money... and there were no media. We couldn't make any records together, no one really helped us. So, slowly we fell apart and by the end of one day I met one of my local guy Jyoti Ratna Bajracharya and he asked me to join he and his friends and form a band. So I joined them and we named the band "The Peace" so I was vocalist and Jyoti on drum Puru on Bass and Dipesh on Lead Guitar and Sailendra on Rythm Guitar. We composed our first song "Aai Deu Priya" and recorded it in 'Sanga Recording Studio' It was our first time in studio and we all were very nervous. We did couple of takes and it was ok.
After a while we had a chance to participate in Rara Nepali Pop music Competition 1992 and luckily we won in 2nd place. With the same song "Aai Deu Priya" in the same day in concert Hall we met Mr. Anil Sthapit and Him dai from Harati Cassette Centre and they wanted our song to include in a pop song collection 'Talent-1' 1992. After a while it released with our song "Aai Deu Priya" and it went real hit and soon we began to receive fan mails and concert invitations. That was amazing for the beginning. I still remember the day I got my first fan mail and it was from a bunch of gals from Pokhara. Thank you gals, it encouraged me so much...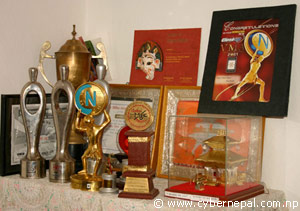 Awards received by Nima
Despite our success from the song and all live concerts we couldn't develop our music/skills within the band and also because of the different taste in music of the band members and me. We decided to split. So I became solo singer and by 1993 I did my first solo song "Jadaichu Tadha Tadha" which I wrote myself and did music myself and was released in 'Touch-1' collection from the same group Harati Cassette Centre. From here... my real musical journey begins. I was admired by lots of my fans and friends for my work. For about 2-3 years I did 4-5 singles for different collection albums. I did song like 'Pagal Premi', 'Ujaad Mero Jeevanma', 'Block Heel Shoes' and they were all superb and went real big hit.
I forgot to mention about my stage performance. All the people and critics claims that there's only one best performer in Nepal in the stage live. And that's Nima Rumba. I do all the best I can when I'm on stage to entertain all the audience and I guess I'm good at it.
I was preparing for my own solo album but didn't really had enough money for recording. During that period I started singing in different restaurants and bars and even in Casino. Just like a Nepali proverb 'Dhunga Khojda Deuta Milyo', (which means to find something bigger & greater than one has expected), I met a person named Pushpa or Pushkar. Sorry dai, I forgot your name. And yeah I met him while I was singing in the Doblee Restaurant & Bar in New Road. He was my regular customer and he used to like my voice a lot. So one day he called me in his table and asked me if I had done any album. I said no dai. I want to do it but I've got financial problem. And he said he'll come next day. Next day he came back and handed me Rs. 10,000 and said record your album. I was so thrilled and happy. I thanked him million times and I still do. For his help and kindness he did to me.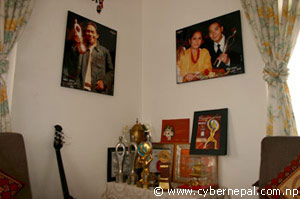 Nima's waiting room filled with awards and photos
After that I collected some more money from my friend Pancha 'Sensi' and added some myself. Then I went to a studio and met music arranger 'Anup Das' and I recorded my first solo album 'Suna Suna' and released it from 'Harati Cassette Centre' in 1994 with the help from Anil Sthapit. The album went real good and the plus point was the cover design and photography of album done by Anil Sthapit which was very unique and attractive.
I did various stage show during that period also did 'Nima Rumba Nite 1994' in Academy Hall by 2nd year student of Shankar Dev campus. I did shows in Pokhara, Darjeeling Sikkim and met so many fans.
In 1996 I recorded my second album 'Nima - Memories' from 'Santana Records' which I worked with Sunil Bardewa and Anup Das for music arranging.
There was a featuring song with GP, a Hip Hop Rap Song. From the album the song 'Ms Catwalk' went super duper hit and also the music video of 'Ms Catwalk' was real hit in Image Channel. Everyone admired me for my performance in this video. Just after a while I did this video and album, I left Nepal to HongKong. I went to HongKong with my wife Sheli and started living very normal life, far from my music world. But the distance really didn't affect me from creating new music and writing songs. Time to time I really missed my country, family and friends specially my fans and my music. So I began to write more songs and did music in new style. Well I guess my writing and singing and music has always been different and unique than you here everyday in our Nepali music field. And that's why I'm always a favorite to my fans and listeners. Guess I'm not talking too much bout myself. Ok... So I came back Nepal after 3 years in 2000 and I recorded my 3rd album 'Huri Bataas' I don't think I really need to talk about 'Huri Bataas' album which everyone knows. How well it did in Nepali music scene. There's all kind of choice of song for everyone and god I worked very hard for it. And I'm happy for the price I received. Thank you all guys for liking this album.
Well again the music video of 'Huri Bataas' and 'Jaadaichu ma hai Videshma' and 'Anjaan Mayalu' were really cool. Huri Bataas was no.1 song in Hits fm for quite a long time and also its music video in Image channel went no 1 in Top Ten for months. And the alum itself was the No.1 Best selling album of the year 2000 and 2001. And it won 'The Best Album of the Year' in 'Hits FM Music Award 2058'.
It was sad though that I wasn't here to celebrate the honor but I was happy my brother was there to grab that award and again I was back in Nepal on 1st may 2002 and recorded my 4th album 'Lolita'.
And I hope you like it as usual Nima Rumba songs. Hope you will like the music videos as well. Lastly I wanna thank each and every person who has helped in any way throughout my career to get this peak of success and popularity. All the fans, people, friends and families all the media...thank you so much.